Slowly's Oldies – Archived Versions are great !
---
When you need older versions of software...
Archived Versions are great! For Android users, Slowly's older versions at ApkPure.com or APKmirror.com could be handy in those cases.
A friend had suggested the ApkPure.com site as a source if I ever needed some older Android software. And turns out the site is very good.
They have a detailed page for the Slowly app, here. And links, comments, etc.
Plus — something we don't usually get, an archive of older versions if you want one of them.
---
Reminders :
You need to trust anyone whom you download software from in the Internet! Be careful always.
You need Install Software from Unknown Sources setting enabled in your device for it to accept installing this and other Non-Google Play sourced files.
---
Getting Started — install the site's own package manager :
You need to install the site's own software -– free and easy, but NOT available from Google Play. Some of their apk files are compressed, and won't install as a side load like commonly done.
Download an apk from somewhere, click, it installs normally? nope. Use ApkPure installer, and from them on it also offers updates.

---
** Disable Google Play Updates — Important :
And after struggling with getting this installed and working well, using a different APK site , I found out to my chagrin...
That the app had been UPDATED no matter what. Argh. 🤔
I did NOT get it from Google Play, but the thing saw my install, and deemed it needing an Upgrade, to version 6.0.11 — the most current release at the time.
---
How do I disable Google Play Updates ?
DISABLING updates in Google Play all together is the only way to stop this. No opt out for this or that app. Sadly, pretty dumb. 😒
How ? Open Google Play store – go to Settings – select 'Auto-update apps – and the Don't auto-update apps option[thanks go to bajaja!]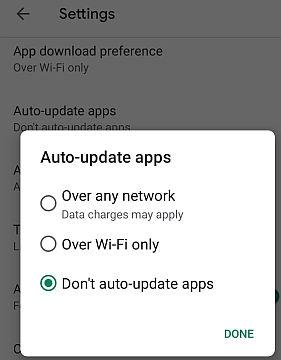 The ApkPure installer itself HAS an option of disabling updates for one single app or more if you want. I had that selected, so to find my careful installs overwritten was a pain.
---
Alternative Site – APKmirror.com
I recommend APKmirror.com as well — the Slowly page there is here
Here's a current list (November 14, 2020) of their archived versions :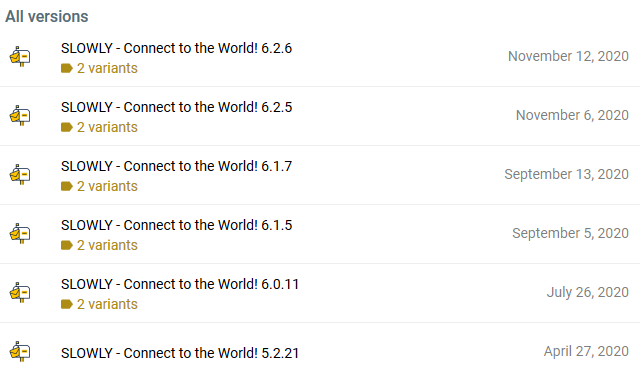 ---
Which Version to use ?
If you go to one of the versions listed, you will see some variants (sometimes, each supporting different screen resolutions, for example).
I use and recommend the very stable version 5.2.21, the last one of the v.5 branch of Slowly. There is only ONE package available, with some extra modules inside to accommodate any needed variants. An easy install.

---
What is included, supported ?
The Download page shows the supported processor architectures (ARM 64 and 32 bits, Intel x86 and x86_64 bit), as well as the different Screen Resolutions (160, 480 and 640 dpi) supported.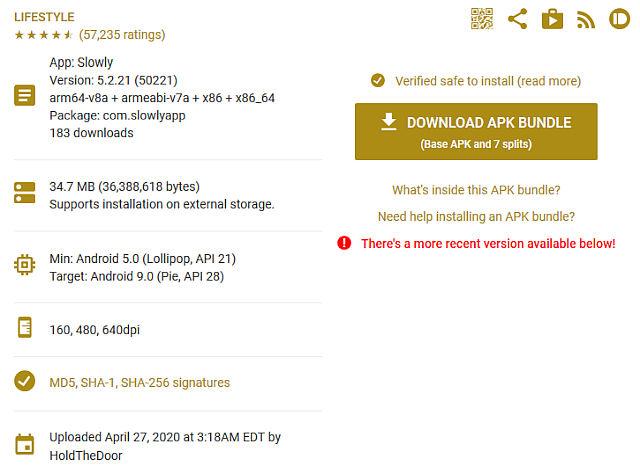 ---
But, why older versions ?
A lively discussion started on the Topic. One user questioned :
But why do someone want to download the older version ? If there is benefit to it , then mention it . It may not perform since they are older versions .
And got a reply :
"There is a benefit, as seen by the OP's effort to create this topic.
A lot of people are still using version 5 Slowly, and they might not update soon; some people barely use the app.
Sometimes newer versions might introduce higher resource requirements. Or have some incompatibility with some device.
Newer is not necessarily always Better, imo. "
---
OK, so for less technical users ? 😉
I see . For not so geeky users , this post will be useful to update their old app or download the older version .
"Yes, as you mentioned — they could use the other site to get a newer version in the same range (v.5 for example. v.4 is probably too old and likely not supported maybe).
Geeky users have special needs too — and might want to use a slightly older versions for special reasons. Or in one of their devices, not in another.
The Google Play site only offers the newest version, no choices of older ones."
---
And sometimes being on Android looks better 😜
Another user, an iOS device owner, responded :
A bug maybe. I would love to be able to downgrade. I am on IOS and I cannot send photo sharing requests, I must ask others to send the request to me
Ohhhh — that is where we see how being in Android can be better sometimes. Apple's tight controls on devices and software means we couldn't do what is described in this topic. Rolling back a version for whatever reasons we want.
Not allowed by the Cupertino company. One of the irritations I have with the company. :)
---
My Root Reason for publishing this :
installing older versions of SLOWLY app gives all of us any benefit , then simply mention it .
There's some advantages to certain versions, and people might benefit, but it's not for everyone.
Posted as a Reference for those who could see an advantage. I have rolled back some of my devices, for example, using this method. It worked, and I am still using version 5.2.21, as it is stable and faster for me than the newer ones.
This in my mobile Android device, which sees much less use than Web Client in my laptop — my Primary workplace in Slowly, as it's so much faster.
App loading time has slowed in version 6.2.x, which has to fetch all the usual data, plus about 5 complete "Slowly Stories" for on screen display if desired. Maybe this could be an optional feature, with a control in Settings to disable it?
Any questions or comments? Please leave a message after the tone. Beeeep.
---
Famous Last Words
Special Thank You to the folks behind this wonderful app — all the hard working people at Slowly Communications.

Letters we share, with pen pals all over the World, via the magic of the Slowly App. A modern day take in the traditional penpal experience.
Come and join us, if you are not yet using Slowly.
---
Follow Blog via your Fediverse/Mastodon account :

@friends-near-and-afar-letters-we-share@wordsmith.social
This page created entirely in MarkDown language. Thank you for reading, feel free to comment about this post – reach me at my Koyu account.
... or post a comment in the Reddit thread for it here.

@yann2@koyu.space.