Landscape mode for some new stamp Designs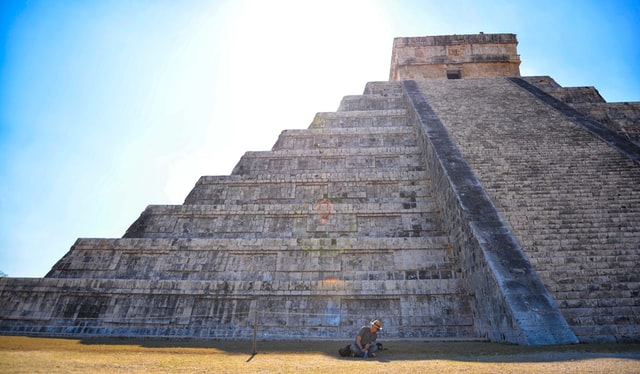 ---
Stamps maybe could use a Horizontal shape?
Recently I was preparing a post about the interesting 'Antojito' Mexican Food stamp set - the one that vanished soon after release.
As part of that post, I used a copy of the Slowly stamp for México, which shows the Mayan pyramid at Chichen Itza location :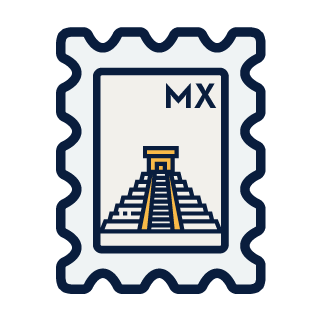 ---
Inspiration, from a Sunset photo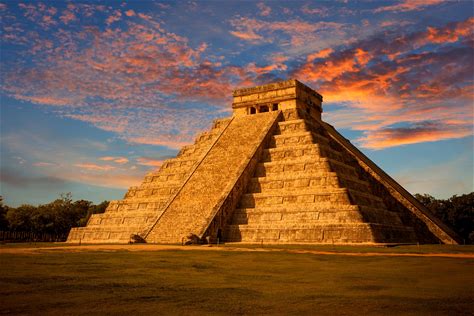 The photo of the Mayan pyramid is gorgeous, and the proportions, the format, lead me to think it could look good in a Landscape format design stamp.
Slowly so far has only used 'Portrait' mode for the stamps, as shown in this example above. But I don't think there are any technical reasons for not allowing or considering Landscape mode, Horizontal format stamps.
In some cases, that might look good, maybe better?
---
So I decided to do a mock up :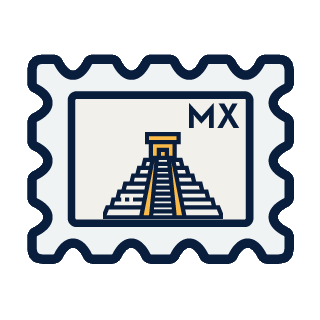 All the image files are SQUARE — the small ones shown in the Stamp Collection and Stamp Store pages are 100 x 100 pixels. The Slowly servers also store a larger size, which is 320 x 320 pixels, the size shown here.
Since the Source images for the stamps are already known to be Square, rotating the image inside to a Landscape mode presentation should work, I think?
I am not asking for a redesign of existing stamps, to be clear — but for consideration of the idea of having some new ones designed in whichever format allows for best result.
---
Location Stamp designs have been evolving
We have seen a nice Evolution in some newer Location Stamps
Contrary to the stark and minimalist simplicity of the earlier ones, we have seen some touches of colour – which really add to their beauty and make them stand out. Some nice examples are highlighted below.
Maybe it's time to check if it's possible and consider a new Landscape format too?
---
Tunisia, Amphitheatre of El Jem.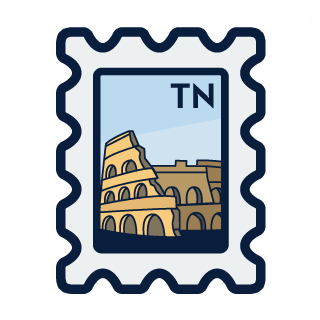 The Amphitheatre of El Jem is an oval amphitheatre in the modern-day city of El Djem, Tunisia, formerly Thysdrus in the Roman province of Africa. It is listed by UNESCO since 1979 as a World Heritage Site.
---
Luxembourg, Vianden Castle.
Vianden Castle ( French: Château de Vianden, German: Burg Vianden Luxembourgish: Buerg Veianen ), located in Vianden in the north of Luxembourg, is one of the largest fortified castles west of the Rhine. With origins dating from the 10th century, the castle was built in the Romanesque style from the 11th to 14th centuries.
---
Montenegro, Njegos Mausoleum.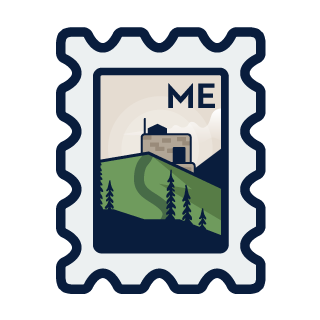 The biggest and most important monument of Lovćen national park is Petar Petrović Njegoš's Mausoleum constructed in 1971. The location for his burial place and the mausoleum at the summit of Jezerski vrh was chosen by Njegoš himself as his last wish.
---
Bosnia-Hzergovina, Stari Most.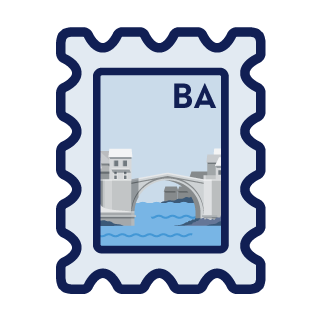 Stari Most, also known as Mostar Bridge, is a rebuilt 16th-century Ottoman bridge in the city of Mostar in Bosnia and Herzegovina that crosses the river Neretva and connects the two parts of the city. The Old Bridge stood for 427 years, until it was destroyed on 9 November 1993 by Croat paramilitary forces during the Croat–Bosniak War. Subsequently, a project was set in motion to reconstruct it; the rebuilt bridge opened on 23 July 2004.
---
Uruguay, The Hand Sculpture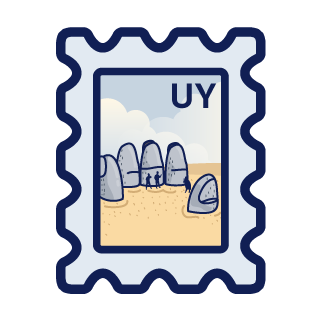 La Mano (The Hand) is a sculpture in Punta del Este by Chilean artist Mario Irarrázabal. It depicts five human fingers partially emerging from sand and is located on Parada 1 at Brava Beach in Punta del Este, a popular tourist town in Uruguay. It is also known as either Monumento al Ahogado (Monument to the Drowning Man), Los Dedos (The Fingers), or Hombre emergiendo a la vida (Man Emerging into Life). In English, its popular name is The Hand.
---
Credits and Acknowledgements :
Stamp Images by Slowly Communications, Inc. with our thanks.
Monument descriptions by Wikipedia.org with many thanks.
Banner image, photo by iorni.com on Unsplash
---
Famous Last Words
Special Thank You to the folks behind this wonderful app — all the hard working people at Slowly Communications.

Letters we share, with pen pals all over the World, via the magic of the Slowly App. A modern day take in the traditional penpal experience.
Come and join us, if you are not yet using Slowly.
---
Follow Blog via your Fediverse/Mastodon account :

@friends-near-and-afar-letters-we-share@wordsmith.social
This page created entirely in MarkDown language. Thank you for reading, feel free to comment about this post – reach me at my Koyu account.
... or post a comment in the Reddit thread for it here.

@yann2@koyu.space