A woman on the net asked me to design a bass guitar for her. It all started with a mistake, really.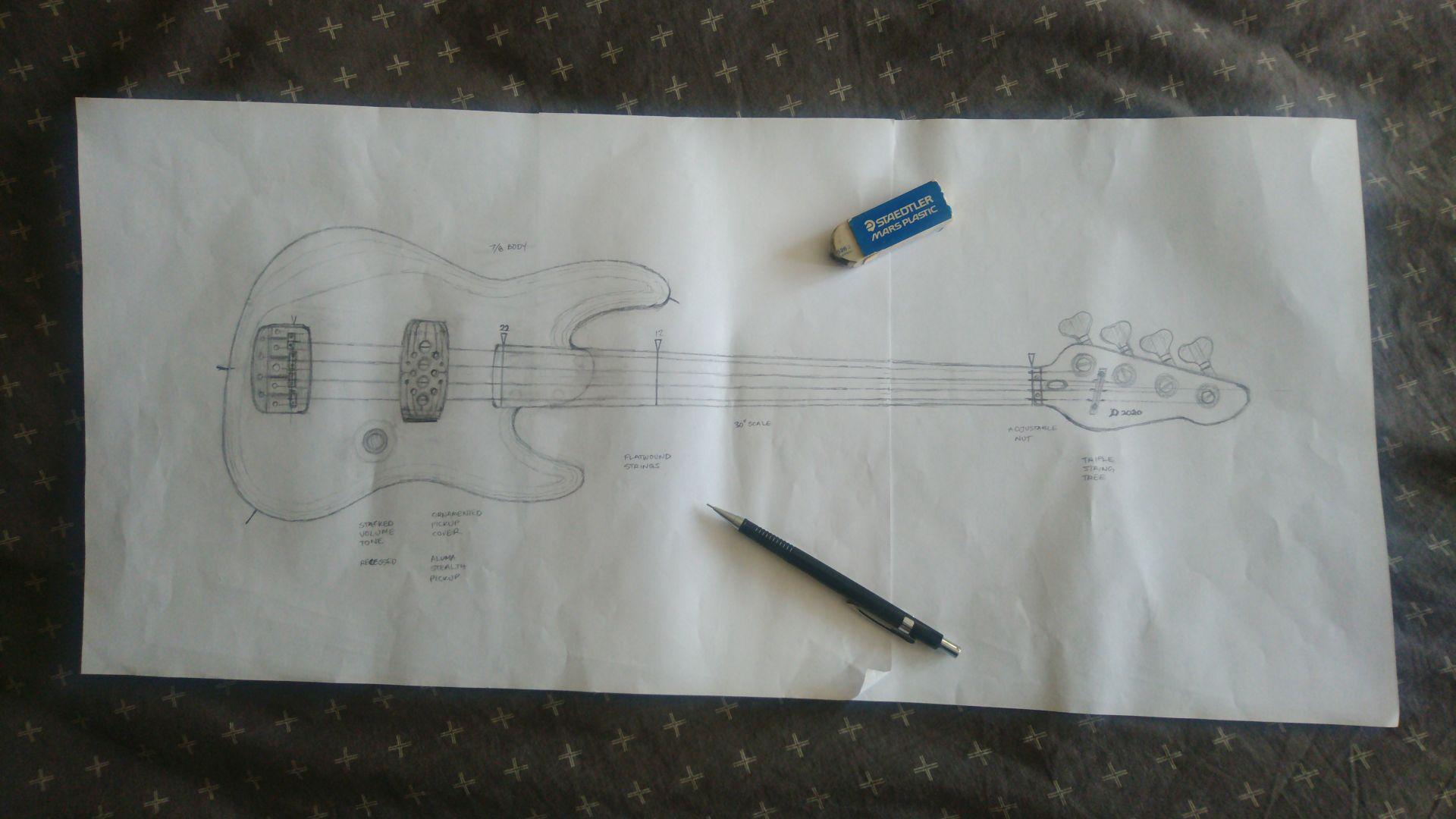 The secret is out anyway so I might as well tell you too that I'm designing a bass for myself. The beginning of it all was learning that some bass guitars actually have guitar pickups. Squire Broncos do and others too.
One of the classic bass guitars that got modded with guitar pickups was the original Fender Precision, before the split pickup, that is. So the search was on for a cheap bass that could supply the minimalistic instrument of my dreams.
During that search I found a pickup that didn't care about the number of strings. It would work equally well in a bass although it was designed for a guitar. And it was cleverly engineered too.
What would it be mounted into? It would need to be light-weight and just the right size. A short scale bass like the mustang would be perfect except for the short scale. A long scale unit would probably be heavier and possibly even too long.
A kit, maybe?
Yes, there is a place where you can buy a kit mustang. That place also makes it possible to replace the 30 inch short scale neck with longer ones. I already knew about the 34 inch option but there was yet another one that was new to me. A medium scale bass is 32 inches... Nice.
I brought out pencil and paper and started drawing. A mustang body with a medium scale neck. So far so good. But with a normal Fender headstock it would neck-dive. How light could the headstock be?
Placing the tuning machines in a line on one side of the headstock wasn't the answer. Maybe three plus one as on the MusicMan Stingray? I did several attempts but all made the lonely tuning machine look... well ...lonely. So it had to be a two plus two configuration.
After downloading true-to-scale drawings from an online shop I finally had something that had all the properties I was trying to include. The headstock was getting smaller and the strings were short enough to eliminate the need for a string tree.
After getting all the parts drawn I scaled the bits down on a photocopier to half size. Now the design would fit on two A3 sheets. A couple of hours later I had the entire design in front of me. ...and the proportions weren't too bad considering the changes I had made.
The original mustang has 19 frets. My fretboard would be longer so it could have more frets. Why not aim for a full two octaves (24 frets)? Making the cutaways deeper was difficult. I really wanted the body to be a modernized mustang and doodling for a looong time actually resulted in something useful, much to my surprise.
The sketch was supposed to be uploaded to my private "homework" blog, but somehow it ended up elsewhere, more public. I must have been really tired.
So someone saw something they weren't supposed to see. ...and liked what they saw.
A woman got in touch with me through the fediverse and asked me if I could design a bass guitar for her too.
"Do you listen to Khruangbin?", she asked and I truthfully answered that I didn't know what she was talking about. "It's an american band playing stuff influenced by music from all over the globe."
"Why do I have to know about them?"
"Laura Lee, the bassist, made me play the bass."
"Oh."
"But my Squire jazz is just too heavy and long. My shoulder is killing me. I want something that could replace Laura Lee's backup (a Höfner knockoff with a geisha sticker) but still look a bit like her main bass."
It took a while to figure out what she meant by that. ...but during that process I got to listen to some wonderful tunes.