Getting Good Penpals – 2. Three Ways to Go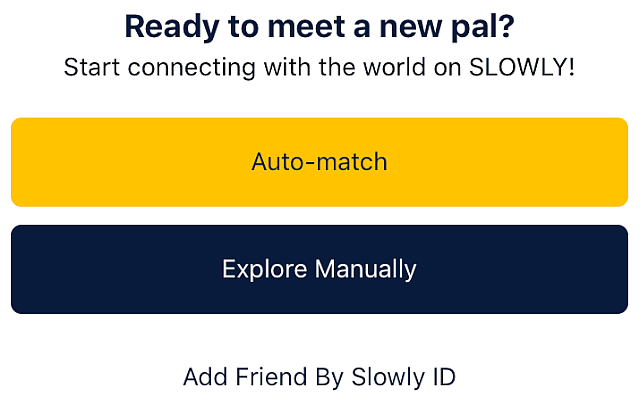 ---
To Find Partner a Slowly Users Guide, Part 2
Selecting the people we will correspond with is one of the best ways to start on the path of exploring the world of Pen pals correspondence.
This is the SECOND part of my Slowly User's Manual for finding good pen pals. See the Part 1 Page here, as it contains relevant information, before you start on this page. Thank you!
---
There's Three Ways to Find a Partner
And they all have Advantages and Disadvantages. I believe you should know a bit about them before deciding which method to use, or even to try one of those.
Knowledge is Power, and learning their basics will yield better outcomes.
Going in the order they show in the image above, which is a snapshot of the Mobile version of Slowly, we find :
Auto-Match.
Explore Manually.
Add friend by Slowly ID.
Lets examine and expand each one.
---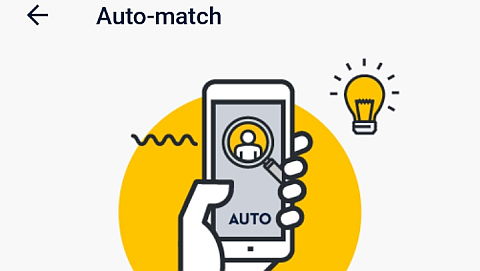 1. Auto-Match.
The Adventurous or Lazy User's Way — Auto-match is designed to find some penpals for you, with a dose of Randomness and with little effort to search and screen the user list.
Remember that Auto-match can only be used once per day. Make it count, or wait another day to try again.
There are a LOT of unresponded letters sent this way. Personally, I have used Auto-match Once. Three letters sent. ONE response only.
Step 1. Setting some filters – Will improve Quality! There are a couple of filters that help improve the auto-match results, e.g. Gender, Languages, Topics, etc. All matched penpals will satisfy these pre-set filters.

Step 2. Write it – The All Important First Letter. After tuning the filter settings you will have to write your first letter by tapping "Write Now" button (at the bottom). Please try to make it memorable & fun! We recommend you write a longer, more detailed letter for the first time.

Step 3. Review the Settings – and your finished letter. After you tap "Save" on the draft letter (top right corner), you will return to the filter page and let you review all your settings before auto-match. You can change your filters, or tap "Edit" to edit your letter.

Step 4. Begin Matching When everything is set, you can tap "Begin Matching". The system will auto-match from 1 to 3 penpals (this was a settings option) for you at a time.

Step 5. Send to selected users When the matched users have been automatically selected, you are one step away from sending this out. There's NO WAY to visit the matched users profiles — you will have to look at their names, countries and avatars, and try to decide if you keep those, all of them, or un-select one or two before sending. Then, tap "Send to selected users" to mail your letter.
This Auto-Match section is based on a Slowly Help page. Edited and expanded here.
---

2. Explore Manually.
This is what I suggest to all new users — rather than trying their luck in Auto-Match, or worse — posting an Slowly ID code in a public Forum. And then waiting to see what comes in, I would recommend that you look at the Explorer (or Users list) feature.
You can browse through real people's profiles, preferably the ones with an About Me description (hard to tell how someone is otherwise), and then you should certainly find someone interesting.
You can use the awesome power of the Filters in the Explorer/User list Search feature to focus your search (remember, there's over a million active users listed). These work amazingly well and fast.
Whichever filters you select remain in place for later searches too, until you change or remove them.
Something like selecting a Location, if you want a penpal in certain countries, or an Age group if that's important.
One of the available filters is even "With "About Me" only" — which I always select (it's hard to tell if someone is compatible otherwise).
This section is based on my Reddit post and a Slowly Help page. Edited and expanded here.
Set the filters (user list > top right corner):
Just like in Auto-match mode, there are various filters in Explore Manually. You can select by regions, countries, languages, age groups, interest topics, and even zodiac sign.
Applying filters means that the users must match with at least one of your requirements in order to be shown on the user list.
Since there are hundreds of thousands of users on the app, it is an effective way to find the right pen pals for you.
Remember to click "Apply" (filter page, at top right corner) to confirm your setting!
Once you have found some interesting users by looking at the profiles, you can :
Write them a full, complete letter. First letters can make or break the desired contact, so take your time and do a good job.
Someone once suggested a nice idea — that we could start writing a letter. And even if only a couple words are written, it can be saved as a Draft.
Which in this case is an excellent way to Bookmark interesting people, for later consideration. A feature that Slowly itself does NOT offer yet, but a creative user proposed this solution. Great idea!
We can send a maximum of 12 letters per day to new contacts found via User Explorer.
But using the 'draft' idea mentioned above, you could save larger numbers of interesting people, by bookmarking them, for later consideration.
Sending letters in the next day, or whenever you feel like.
These letters will need to be fully entered via the mobile device apps, sadly, as Slowly Web mode still does not offer any of those user finding tools.
---
3. Add friend by Slowly ID.
This section is based on a Slowly Help page.
A whole new page as the "Add Friend by Slowly ID" has many questions that deserve to be discussed in detail. "Getting Good Penpals – 3. Adding by Slowly ID" is now ready.
---
Famous Last Words
Special Thank You to the folks behind this wonderful app — all the hard working people at Slowly Communications.
Letters we share, with pen pals all over the World, via the magic of the Slowly App. A modern day take in the traditional penpal experience.
Come and join us, if you are not yet using Slowly.
---
Follow Blog via your Fediverse/Mastodon account :
This page created entirely in MarkDown language. Thank you for reading, feel free to comment, via a direct message to my Twitter account – or the Reddit one.
You can also post a public comment in the Reddit thread for it here.