Getting Good Penpals, a Slowly Users Guide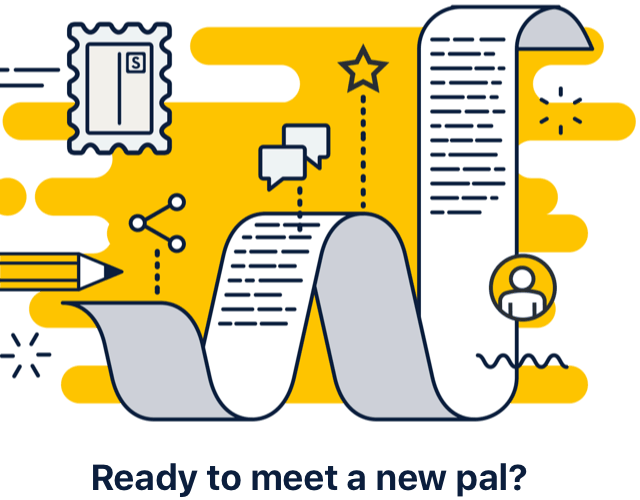 ---
Selecting the people we will correspond with
... is one of the best ways to start on the path of exploring the world of Pen pals correspondence.
This page is an enhanced version of a Guide originally posted at the Reddit sub for Slowly app users.
As this Blog allows for better formatting and presentation, this version is now being created and published.
---
Getting penpals when you are a new Slowly user?
Here's what I would suggest to all new users — rather than posting an Slowly ID code and waiting to see what comes in, I would recommend that you look at the Explorer (or Users list) feature.
Real people's profiles, preferably the ones with an About Me description (hard to tell how someone is otherwise), and then you should certainly find someone interesting.
You can use the awesome power of the Filters in the Explorer/User list Search feature to focus your search (remember, there's over a million active users listed). These work amazingly well and fast. Whichever filters you select remain in place for later searches too, until you change or remove them.

Something like selecting a Location, if you want a penpal in certain countries, or an Age group if that's important. One of the available filters is even "With "About Me" only" — which I always select (it's hard to tell if someone is compatible otherwise).

Writing them that all important first letter is next. What I would suggest is maybe even having a draft of a typical first letter, which tells a bit about yourself (besides what you already have in your own, all-important, must-have About Me description).

Take that draft (it could be saved in a text file in your device, open and copy, paste into Slowly), and add a bit of a personal touch. Mention something you find you have in common with the person, something funny or witty you liked on their profile.

Have a personal touch, not a 3 or 4 line "letter" which some people send out scattershot. That wouldn't impress me, on the receiving end; and likely be ignored by some.
---
Trust me — This Will Work.
I use the method described above, and it does work. Not always will you get a reply, sometimes people won't respond, but what can you do? Leave it and find another interesting person, do the same.
Soon you should have a group of people you found interesting to correspond with, and maybe some that found you the same way — identifying with your own About Me description, personal preferences, etc.
Have fun, in my opinion this works much better than random people who come to you from a forum posted ID code. Good luck!!
...and that's the End of the original post, folks. Now on to expanding and illustrating each of the main points.
If you feel confident you already know the ideas and how to implement them, go ahead; otherwise, lets go Exploring.
---

House Rules :
Do you see that little Lamp on the image above, at right? That is a snapshot of the Find New Penpals area, and the lamp at the top corner is linked to the "House Rules" page within the app itself.
I had seen it mentioned, but I imagine MOST people have never seen it or read them — so here is a full copy. We have to abide by those terms, or you could get Reported, and your account terminated.
To ensure a friendly social environment, please reconfirm you will obey the following house rules when using Slowly.

No spam or solicitation
No contact details in the first letter
No flirting without consent
No pushing to send photos
No racism, bullying or violence

These house rules are drafted based on the original Terms of Service which you have accepted upon registration. Violating these terms may lead to account termination.
Happens a lot, there are Scammers and Spammers here too, sadly. But they get removed soon after joining. ALL users have to accept the extensively detailed Slowly Terms of Service, .
---
There's Three Ways to Find a Partner
And they all have Advantages and Disadvantages. I believe you should know a bit about them before deciding which method to use, or even to try one of those.
Knowledge is Power, and learning their basics will yield better outcomes.
Going in the order they show in the image above, which is a snapshot of the Mobile version of Slowly, we find :
Auto-Match.
Explore Manually.
Add friend by Slowly ID.
Let's examine and expand each one. See the linked pages for each stage above.
Read "Getting Good Penpals – 2. Three Ways to Go" next — where we explain the Auto-Match and Explore Manually options.
And the "Add Friend by Slowly ID" has many questions, to be discussed in detail. "Getting Good Penpals – 3. Adding by Slowly ID" is now ready.
---
Famous Last Words
Special Thank You to the folks behind this wonderful app — all the hard working people at Slowly Communications.
Letters we share, with pen pals all over the World, via the magic of the Slowly App. A modern day take in the traditional penpal experience.
Come and join us, if you are not yet using Slowly.
---
Follow Blog via your Fediverse/Mastodon account :
This page created entirely in MarkDown language. Thank you for reading, feel free to comment, via a direct message to my Twitter account – or the Reddit one.
You can also post a public comment in the Reddit thread for it here.